A Great Place to Grow! 
Registration now open for Preschool
Webster's Corner, Harry Hooge and Alouette Elementary Schools 
Your choice of a 3 hour or 4 hour preschool. 
8:45am-11:45am
8:45am-12:45pm
Tuesday/ Thursday 
  3 hours $165/month, 4 hours $215/month 
Monday/ Wednesday/ Friday   
   3 hours $225/month, 4 hours $295/month
Monday/Tuesday/Wednesday/Thursday/Friday 
    3 hours $365/month, 4 hours $475/month 
Also available
Stave Falls Elementary Outdoor Preschool
9:00am-1:00pm
Tuesday/Thursday $195/month
Monday/ Wednesday/ Friday $295/month
Monday/ Tuesday/ Wednesday/ Thursday/ Friday $455/month 
:
Contact reaghan@littlewillows.ca to register today! 
OUTDOOR PRESCHOOL
Our outdoor preschool is 75% outdoors with our beautiful bright classroom as our 'home base'. The program runs 9:00am-1:00pm Monday through Friday with part time options available. The children will explore the acreage on site using the environment as the third teacher and be able to explore the full benefits of outdoor play including self regulation, problem solving, imagination, connecting with nature, socialization and many more.
Children need vitamin "G"…. We will be in contact with green environments as it is needed in frequent regular doses to help the developing child.  A healthy human habitat is an essential component to children's early development and you can't beat our acres of land, forest and trails to explore!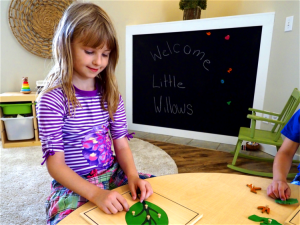 The willow tree is known as "The Tree of Enchantment." They have roots that are so big and strong they are often larger than the stem of the tree itself.  They are also known for their growth and can grow up to ten feet in a year!
Our "roots" are an important part of us and who we are, our connection to our families and our values.  And of course children are always growing, not just physically but also cognitively, morally and emotionally.
The spirit of Little Willows is one of respect, growth and compassion.  We would love to show you around our facilities and introduce you to our philosophy  that makes us such
"A Great Place to Grow!"